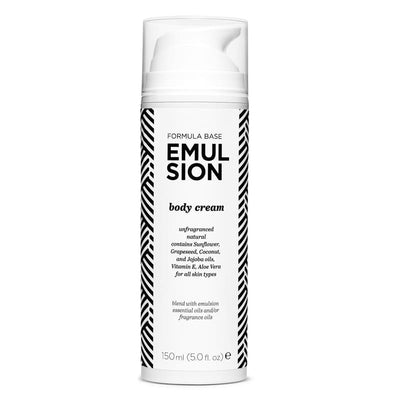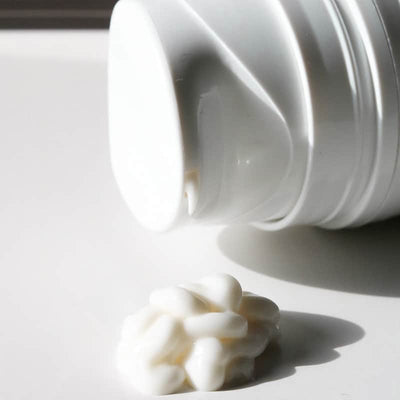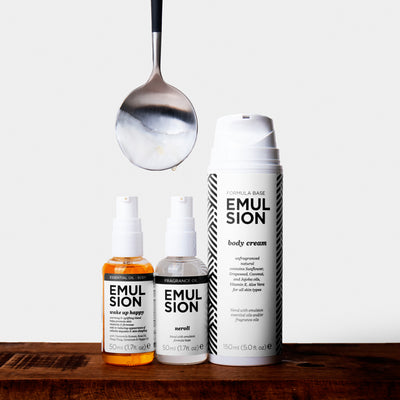 Body Cream Unfragranced 150ml
Emulsion Cosmetics unfragranced body cream whipped for your pleasure, is a  thick and creamy lotion that sinks into skin like an absolute dream. Leaving your skin no longer gasping for more, but totally moisturised and hydrated. Personalise by adding your choice of Emulsion Oil Blend and/or Emulsion Fragrance Oil.  Contains Sunflower, Grapeseed, Coconut, Jojoba oils, Vitamin E and Aloe Vera and is suitable for all skin types.
Nourishing and hydrating
Light whipped creamy texture
Contains sunflower, grapeseed, coconut and jojoba oils, Vitamin E, Aloe Vera
Customise with Emulsion essential oil blends and/or fragrance oils
Suitable for all skin types
1. Add Emulsion Body Cream Formula base in to a bowl or the palm of your hand
2. Add your choice of Emulsion Essential Oil Blend and/or Fragrance Oil.
3. Mix until equally blended and apply all over the body for a velvety finish.
JOJOBA, GRAPE SEED, SUNFLOWER, ALOE VERA, VITAMIN E
Aqua, Helianthus annuus (Sunflower) seed Oil, Cetearyl Alcohol, Glyceryl Stearate, Glycerin, Vitis vinifera (Grapeseed) Seed Oil, Caprylic/Capric Triglyceride, Benzyl Alcohol, Sucrose Stearate, Sodium Stearoyl Glutamate, Sodium Benzoate, Xanthan Gum, Coco-Glucoside, Simmondsia Chinensis (Jojoba) Seed Oil, Coconut Alcohol, Tocopherol (Vitamin E), Dehydroacetic Acid, Aloe barbadensis Leaf (Aloe vera) Juice Powder, Citric Acid.